Rug Cleaning Cape Cod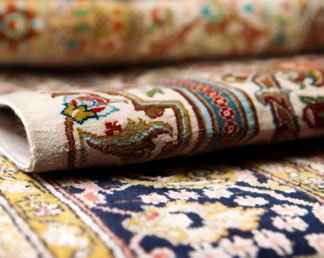 Whether a beautiful hand-knotted oriental or a special accent or centerpiece, rugs create a comfortable floor surface and more often than not are an important element of a room's décor.  What homeowner doesn't enjoy hearing a visitor comment on how well a rug completes a room?
To clean and maintain rugs, most simply run the vacuum over the rug during regular house cleaning.  While vacuuming removes larger pieces of dirt and debris, it does not remove the finer soil that has settled into the rug.  Professional attention is necessary to keep rugs clean and to ensure a rug lasts for many years.
Oriental and area rugs require more care and advanced cleaning techniques than does wall-to-wall carpeting.  Using tools and equipment designed specifically for cleaning rugs, our cleaning process provides a thorough and effective, yet safe, cleaning.
Here is a summary of our cleaning process:
Detailed inspection
Dye Bleed Testing (if necessary)
Dry soil removal (referred to as 'Dusting')
Dye Lock treatment (if necessary)
Clean & Rinse
Dry
Detail fringes (if necessary)
Thorough post-cleaning inspection
Dry Soil Removal – What sets us apart from others
The key to our rug cleaning process is dry soil removal.  Dry soil removal is critically important to maintaining the appearance and extending the life of your rug.
Although regular vacuuming can remove the soil particles close to the surface, a vacuum is not powerful enough to remove the soil that is embedded in the foundation of the rug.  Because dry soil is abrasive, it acts like little pieces of sandpaper on the fibers of the rug, rubbing back and forth each time someone walks across the rug.  If not removed on a regular basis, the abrasiveness of the soil causes the fibers to wear prematurely.
We remove the dry soil from in the foundation of your rug using a two-step process developed specifically for this purpose.  The first step opens the fibers and prepares the rug for dusting by 'lifting' the carpet pile.  The rug is then placed face down for dusting.  The second step, employing a mechanical 'duster', shakes loose all the dry soil that has accumulated in the rug over time.  There is simply no comparison to conventional rug beating.  Pounds of dry soil are safely removed from the foundation of the rug without any risk of damage to the rug, fibers or fringe.
If a rug cleaner is not taking the necessary steps to remove dry soil, the rug is not being properly cleaned.
Rug Washing
A second option for rugs is a full submersion cleaning.  In other words, the rug gets a bath.  This cleaning option is ideal for rugs with extreme soiling conditions, severe water damage, or pet urine contamination for example.  Although not an element of our standard cleaning process, this is available when necessary.  Please note, regardless of the severity of a particular issue, not all rugs can be safely washed using the full submersion method of cleaning.
Pricing: Unlike carpet and upholstery cleaning, there can be many variables encountered when cleaning Oriental and Area Rugs.  We will explain the options available for rug cleaning and do our best to provide an accurate estimate, but exact pricing can only be determined after inspecting the rug(s) that will be cleaned.