Tile and Grout Cleaning Cape Cod MA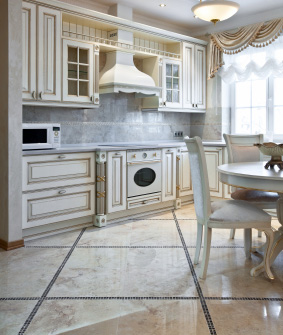 Tired of Dirty Grout Lines? Can't Even Remember the Color of the Grout?
There is no doubt that tiled surfaces add style and beauty to your home. But what happens when these surfaces begin to look dull and dirty? And, unless properly maintained, they will begin to look dull and dirty.
While ceramic tile is extremely durable and will last decades, the grout between the tiles is porous and easily absorbs dirt and staining soils. Over time, the dirt and staining soils infiltrate and become trapped in the pores of the grout. When this happens, your grout will appear dark, dirty, or even discolored. When the condition of the grout becomes this bad, traditional cleaning methods – including scrubbing on your hands and knees – isn't going to help.
J. Brightwell Carpet Cleaning offers a CONVENIENT and COST EFFECTIVE solution to ensure tile and grout continues to look its best.
J. Brightwell provides high quality tile and grout cleaning and sealing services for most every tiled surface – kitchens and bathroom floors, counter tops, and more. Our cleaning process restores your tile and grout to its original beauty and preserves the grout with a protective sealant to prevent future staining.
The J. Brightwell Clean & Sealing System will protect your newly installed or freshly restored grout from staining and soil buildup, making maintaining your tile and grout a breeze.
Professional tile and grout cleaning is perhaps the easiest, quickest, and most inexpensive way to make over a room without having to make a new purchase. Years of dirt and soil build-up are removed and the tile and grout restored to a like-new condition.
Our Cape Cod Tile & Grout Cleaning Process
Inspect floor or area to be cleaned to identify potential problems
Apply an alkaline-based cleaning solution to loosen dirt and other contaminants.
Scrub the individual grout lines and the tiled surface.
Utilizing a professional system designed specifically for cleaning tile and grout, rinse the surface and extract the residue utilizing high-pressure and hot water in just one-step.
If the surface will not be color sealed, repeat Steps 2, 3, & 4 using a low Ph restorative cleaning solution.
Dry surface by removing any remaining water on the surface and employing high powered fans if possible.
Apply the selected sealer – Color Sealer or a penetrating sealer – to the surface.
Pricing: Unlike carpet and upholstery cleaning, there can be many variables encountered when cleaning Tile and Grout.  We will explain the options available for tile and grout cleaning and do our best to provide an accurate estimate, but exact pricing can only be determined after inspecting the surface that will be cleaned.