Pricing
Until now, when selecting a carpet cleaner, consumers normally had two choices. Select a low priced cleaner who delivers an equally low level of service or a high priced cleaner in hopes of receiving a level of service comparable to the cost. With J. Brightwell Carpet Cleaning, consumers no longer have to choose between price and quality.
J. Brightwell Carpet Cleaning delivers a quality service at an affordable price. J. Brightwell employs an honest pricing system made simple and concise through the use of package pricing. No hidden fees or "after charges" and no "in your face" up-selling. No coupons with sneaky fine print. No confusing markdowns or endless sales where the price never seems to change. Although our technicians will ask if you want a carpet or fabric protector reapplied to your carpet or upholstery. Other than that, as long as we are provided with an accurate assessment of what needs to be cleaned, the service you receive is exactly what you expect when scheduling the appointment.
Simple and honest pricing for a carpet cleaning service that adheres to established industry guidelines. What more could you ask for?
Value Packages
Standard Package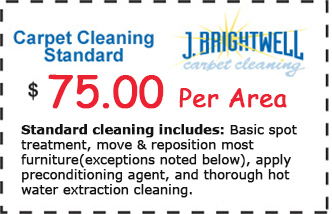 Premium Package

Every carpet cleaning that includes fabric or carpet protector, receives a six month Spot & Spill warranty and a FREE 16oz bottle of spot remover. Please see details below.
Additional Pricing
Upholstery Cleaning – Prices applicable for fabric upholstery only
Sofas/Loveseats: $20.00 per linear foot (Synthetic fibers) / $25.00 per linear foot (Natural fibers & hand shampooing)
Recliners: $55.00 (Synthetic fibers) / $70.00 (Natural fibers & hand shampooing)
Chairs (seat & back): $40.00 (Synthetic fibers) / $50.00 (Natural fibers & hand shampooing)
* Please note: Over-sized furniture may be priced at a higher rate
Carpet cleaning services receive a 10% discount if scheduled in conjunction
with upholstery cleaning totaling $200.00 or more.

Stairs
Hallways

$25.00 up to 50 square feet. $15.00 for each additional 50 square feet.
Walk-in Closets

If less than 50 square feet, FREE if cleaned in conjunction with adjoining room
$15.00 if greater than 50 square feet
Carpet & Fabric Protector – Includes 6 month Spot & Spill warranty
Areas – $27.50 per area (300 sqft max per area)
Halls – $10.00 up to 50 square feet
Stairs – $1.50 per stair
Sofas/Loveseats – $65.00 (Synthetic material)
Chairs – $30.00 (Synthetic material)
Pet deodorizer – $25.00/area
The Fine Print
All services must meet the minimum service charge of $150.00
All prices per area are based on a standard area size of up to 300 square feet. Areas exceeding 300 square feet are priced at one-half the cost of the selected package price for each additional 150 square feet.
If offered, only one discount can be used during a single service visit.
Prices apply only to residential properties. Rental properties are considered commercial properties.
Prices are based on light to moderate soiling conditions. Cleaning heavy to extreme soiling conditions can require multiple cleaning methods to achieve satisfactory results and will be priced only after an on-site inspection.
Moving Furniture: J. Brightwell technicians will move regular sized furniture, clean underneath and return it to its previous position. The following are some items that will not be moved: Entertainment Centers, Computer Desks, China Cabinets, Water Beds or Over-sized Furniture. In addition any valuable, breakable, or fragile items should be removed from the tops of furniture before the time of your service.
Spot & Spill Warranty: Services that include the application of fabric or carpet protector will receive a bottle of spotter at the time of service. If something is spilled on your carpet or upholstery that cannot be removed using the spot remover provided by J. Brightwell, we will return and attempt to remove the spot free of charge. A total of three visits are allowed duration of the warranty period. The Spot & Spill Warranty applies to common household spills only. The following are some items not covered under this warranty: Urine & Waste, Pet Accidents, Red Wine, Blood, Nail Polish, Mustard. Return visits are scheduled in conjunction with regular service visits in the same area. The warranty is valid for 6 months from the date of service at which the protector was last applied.