Upholstery Cleaning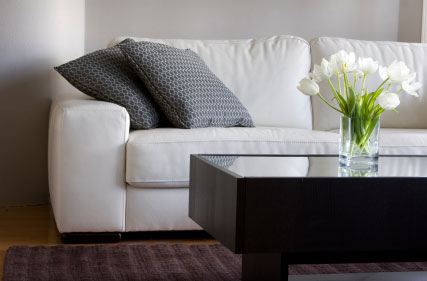 Upholstered furniture not only adds to the decor and basic function of your home or office, but it can also represent a sizable investment. To keep your furniture clean, it's necessary to perform routine maintenance (e.g. vacuuming, immediate attention to spills), coupled with periodic cleaning by a certified technician every 12 to 24 months. Furniture and fabric manufacturers recommend that consumers not wait until severe soiling occurs before cleaning because the greater the soiling, the less the likelihood of restoring the fabric's original color, appearance and texture.
Regular cleaning of upholstery by a trained, certified professional can help maintain your furniture's appearance, extend its life, and keep it looking like new.
Because upholstery is more susceptible to adverse reactions due to improper cleaning methods, when compared to carpet cleaning, J. Brightwell cleaning technicians will strictly adhere to established protocols when cleaning your upholstery and will always err on the side of caution.
An important note: While most fabrics can be cleaned without any issues, there are some that require very precise or special cleaning methods, particularly natural fiber fabrics. When dealing with these difficult to clean fabrics, one must keep in mind that there are limitations associated with the cleaning, regardless of the specific method selected.
Our upholstery cleaning process
Pre-inspection and testing: A determination of the fabric type, color stability and condition is crucial to successful cleaning. The type of fabric will determine the cleaning method, color stability will reveal the possibility that colors may "bleed", and condition will expose the need for repairs (if any) and the overall cleaning approach.
Cleaning: A solvent or water-based cleaning solution will be employed, depending upon the fabric type. Solvent based cleaning will NOT be performed in a home. All dimensions of your furniture, including the skirting, arm covers, and cushions will be cleaned.
Extraction: As with carpet cleaning, extraction removes the loosened soil particles and any remaining residue from the cleaning agent. Depending on the cleaning method employed, extraction will be with a chemically safe rinse or dry vacuuming.
Fabric Protector: Depending on the cleaning method used, a fabric protector can be applied to upholstered furniture. Fabric protectors are not compatible with all cleaning methods.
Drying: Some upholstered pieces can dry naturally and some will need to be dried quickly using fans and/or air movers. Again, this is dependent upon the fabric and cleaning method.